Goldman Sachs predicts that the combined trade revenues of the global recorded music industry and the global music publishing industry will grow by 7.6% this year.
As featured in its recent Music In The Air report, Goldman is forecasting that recorded music plus publishing will pull in $35.3 billion in 2022, up from $32.8 billion in 2021.
We'll see a similar percentage rise, Goldman's report suggests, in 2023 – up 7.1% to $37.8 billion.
These figures chime with the beliefs of Sony Group Corporation in Japan. The company's CFO, Hiroki Totoki, told investors in July: "[We] have not changed our view that the global music market, including both recorded music and music publishing, will grow steadily over the next several years at a growth rate in the high single digits".
When it comes to own company revenues, however, a key stakeholder is eyeing no less than double-digit growth each year… for the next 10 years (at least).
Bill Ackman is the founder of Pershing Square Holdings (PSH), which acquired approximately 10% of Universal Music Group for around $4 billion last year.
Ackman and Pershing Square recently sent out a mid-year report to PSH investors, which contained some interesting – and confident – commentary around the performance of UMG.
"UMG can grow revenues at an annual rate of 10% or so for more than a decade."

Pershing Square mid-year 2022 report
The report, published June 30, read: "We believe that UMG's decades-long runway for growth remains underappreciated by investors.
"With increasing streaming penetration combined with the development of new services, platforms, and business models, UMG can grow revenues at an annual rate of 10% or so for more than a decade."
If you believe Goldman Sachs' numbers, Universal achieving that 10% YoY increase over the next decade would see it significantly outpace the rest of the music rights market.
Backing up Pershing's forecast, the company's report added: "UMG's recent results support our longer-term view, as year-to-date, revenues and profits both increased at a mid-teens growth rate, well above analyst expectations and the company's guidance during last year's Capital Markets Day."
This is true: UMG's revenues in the first half of 2022 were up 16.9% YoY on a constant currency basis, to €4.73 billion.
Recorded music revenue was up 10.1% YoY in the half-year period (to €3.64 billion); music publishing grew 42.1% YoY (to €851 million); and 'merchandising and other' income was up 67.6% (to €248 million).
Pershing added in its report: "High absolute levels of revenue growth coupled with UMG's fixed cost base should allow UMG to significantly expand its operating margins over time, generating highly attractive earnings
growth for the foreseeable future."
It continued: "When viewed on a multi-year basis, UMG's revenue growth has both been higher and more consistent than Warner Music Group, its most closely followed peer."
---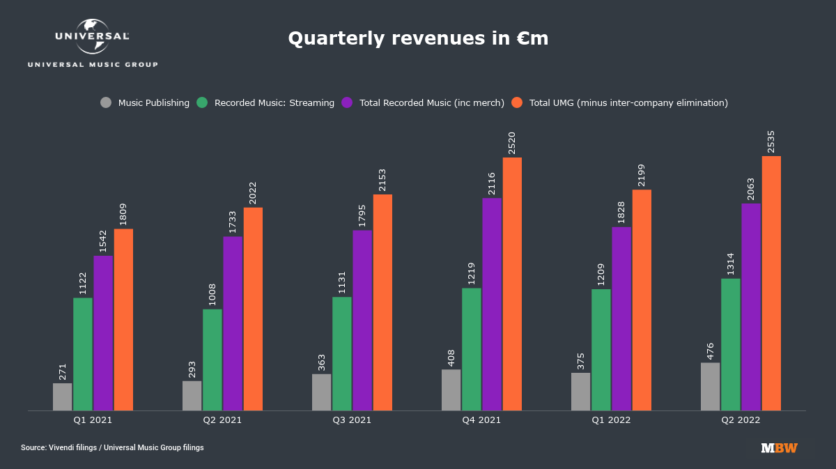 ---
The optimism in Pershing's report for UMG didn't end there.
As it has in the past, Bill Ackman's company noted the value offered to consumers by the standard $10 monthly subscription fee for individual premium accounts on services like Spotify.
"We believe that music is the lowest-cost, highest-value form of entertainment," said Pershing Square's report. "For a $10 monthly fee (and less in a family plan) one can listen to over 80 million songs.
'We expect music streaming to be highly resilient, even in a recessionary environment, as consumers forgo other expenses before cancelling their music subscriptions."
And, just as it has in the past, Pershing stated its belief that the music streaming platforms have "ample room to increase pricing in the coming years", which PSH believes will "drive increased growth at UMG".
Pershing heaped further praise on Universal for its recent Meta/Facebook deal, which will see the social media giant share a portion of ad revenue for certain types of UGC with Universal when its music is used in videos.
"We believe the new Meta deal will boost UMG's growth over the coming years and represents a framework for future deals with other social media platforms," said Pershing, potentially gently pointing a finger in TikTok's direction.
"Over time, we expect the revenue from social media and other emerging platforms such as gaming and fitness to grow faster than traditional streaming and become a more material percentage of UMG's revenue base."
Summing up its view of Universal's potential, PSH said: "Bill recently joined the UMG board and we look forward to working even more closely with the company as an engaged long-term shareholder.
"Given its long runway for sustained earnings growth, we believe that UMG's current valuation represents a significant discount to intrinsic value."
UMG's current market cap on the Amsterdam Euronext weighs in at EUR €35.08 billion.Music Business Worldwide