It was only a matter of time before Tottenham Hotspur and England striker Harry Kane broke the record set by Jimmy Greaves to become the club's all-time top scorer. On February 5 2023, he bagged his 267th goal for the club in a 1-0 victory over Manchester City, taking him clear of Greaves's record.
In doing so, Kane also joined an illustrious group – the men's Premier League "200 club". Few would put it past him surpassing Wayne Rooney's 208 Premier League goals this season, then chasing down Alan Shearer's 260 in the next few to take top spot.
But it hasn't always been plain sailing for Kane. He struggled in the early part of his career with relatively unsuccessful loan spells at Leyton Orient, Millwall, Norwich and Leicester. And his early unimpressive goal returns and injuries meant many fans would have struggled to believe he would become one of the game's greats.
So what is it about Kane which has led many to call him the greatest striker the men's Premier League has ever seen?
Kane, Rooney and Shearer are very different centre-forwards. Kane is prone to dropping into the midfield to showcase his playmaking skills, yet rarely misses an opportunity to hit the target from inside the 18-yard box.
Rooney tore around the pitch, winning challenges and aerial battles while also being deadly in front of goal. Shearer, on the other hand, was seldom seen outside the opponent's 18-yard box – but any attempt within it would likely hit the back of the net. All three have shown a champion's mindset.
Kane's mindset
An important aspect of any elite athlete is how well they perform under immense pressure. Football is no different to any other elite level sport in that it places psychological strain on its players. Indeed, with the Premier League's worldwide popularity, the strain for footballers may exceed other elite sports.
One psychological explanation for Kane's success can be found in the concept of "challenge and threat states", which looks at why some athletes perform better than others under pressure.
When faced with immense pressure, we evaluate the upcoming demands of a task against our resources to cope with them. When perceptions of our resources outweigh the demands of the task, we experience a "challenge" state. But when demands outweigh our resources, we enter a "threat" state.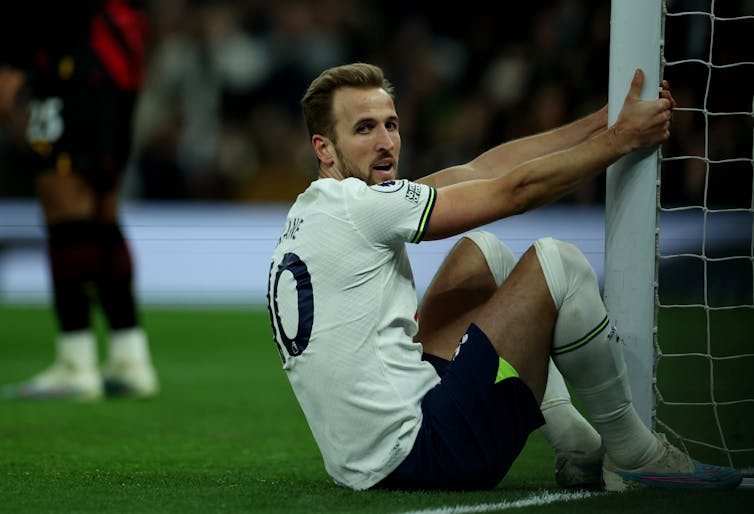 Kane faces many demands each game: opposing players who want to nullify his impact, reporters who may be unimpressed with previous performances, crowds who may be trying to intimidate him. Poor training weeks could also lead him to question his skills. Yet frequently, he overcomes these demands through immense belief in his physical skills and capabilities.
The emergence of a challenge state is important as it is known to cause better performance than a threat state. This has been proven in both the short and long term in football, cricket and golf. A challenge state allows for better performance because less resources are dedicated to "overthinking", allowing for better decision-making and concentration.
Setbacks, obstacles and failures are a part of sport and Kane is not immune. Injuries at several points in his career and persistent rumours of a lack of fitness and form could all have made Kane question whether facing up to these setbacks was worth it. But the Tottenham player has shown incredible bouncebackability and psychological resilience.
Kane's style of play and decision-making
Alongside his challenge mindset, Kane is also good at making the right decision at the right time. As a central striker, his decision-making needs to happen accurately and quickly, whether that's making defence-splitting passes or deciding to arrive late into the box.
Research has shown that elite-level athletes are more accurate and quicker in making decisions than their less elite opponents.
One potential explanation for how Kane manages to arrive at quick and accurate decisions is through his ability to filter out irrelevant information.
When making a defence-splitting pass, identifying the start of the forward movement by your teammate and the body position of the defender is much more relevant than the movement of a non-target player or noise from the crowd. And research has shown that successfully attending to relevant information while being able to ignore irrelevant cues leads to better performance.
Kane has also mastered the art of "seeing" rather than "looking". In other words, he is able to frequently switch between competing focuses while ensuring each gets sufficient attention.
The ability to attend to multiple relevant sources of information simultaneously, affording each sufficient attention to take in and process the information rapidly, is an exceptionally elite skill. Kane's ability to see spaces, anticipate the movements of teammates and opponents, and attend only to relevant information enable him to be in the right place at the right time with extraordinary regularity.
Ultimately, the biggest factors for Kane's success are his mindset and his ability to make expert, informed decisions very rapidly in the key moments of a game. In years to come, these factors will surely lead many a fellow professional footballer, pundit and fan to describe Kane as one of the greatest footballers the Premier League has ever seen.