When the 2005 Gambling Act was drafted the world was very different. Twitter, Facebook and YouTube didn't exist. Gambling was often seen as a shady activity typically conducted in smoky high-street betting shops. You certainly couldn't use a smartphone to gamble 24/7 with a couple of clicks.
Aware of these changes, in 2019 the UK government announced a review to ensure that the Gambling Act was "fit for the digital age". The government recently called the review a priority but has not announced a new date for its publication after announcing a delay in July 2022.
As the government contemplates how to regulate this industry, new rules are needed to cover, not just sports betting, but the rise of online casinos, poker matches and virtual slot machines in the internet age.
---


Read more:
Esports could be quietly spawning a whole new generation of problem gamblers


---
In particular, reform of gambling advertising is sorely needed. It has morphed out of all recognition in the last 18 years. Gambling logos can be seen 700 times during major football matches on TV, while the social media accounts of big betting companies post over 28,000 ads per year.
Research shows that gambling ads on Twitter are particularly appealing to children and young people. So it is perhaps no surprise that as many as 30,000 young people aged 11 to 16 may suffer from harmful gambling habits. Gambling harms include financial, emotional and social difficulties.
Another recent study indicated a link between exposure to gambling ads and suffering from such harms for all age groups. This is particularly worrying since there are already 400 gambling-related suicides every year in the UK.
But the UK is actually at the global forefront of gambling advertising deregulation, while other European countries have been tightening these rules. From changes announced in Italy four years ago to more recent reforms in Germany, Spain, Belgium, and the Netherlands over the last few months, the UK could learn a lot from these regulatory approaches.
Italy: a complete ban on all gambling advertising
At the start of 2019, Italy banned almost all gambling marketing. The Decreto Dignità (Dignity Decree) prohibited all TV, radio, press and internet gambling marketing. This blanket ban was brought in shortly after a study highlighted that 3% of the Italian population was suffering from gambling harms.
The gambling industry said such a ban would be ineffective at addressing betting in settings such as shops or casinos. And that it would encourage customers to use illegal gambling sites such as unregulated online casinos.
It also complained that industry revenue dropped from €19 billion in 2018 to €15 billion in 2021. But since gambling revenue remained consistent until February 2020, it is generally accepted that this drop resulted from the COVID lockdowns, when sports events came to an almost total halt.
Different approaches to gambling regulation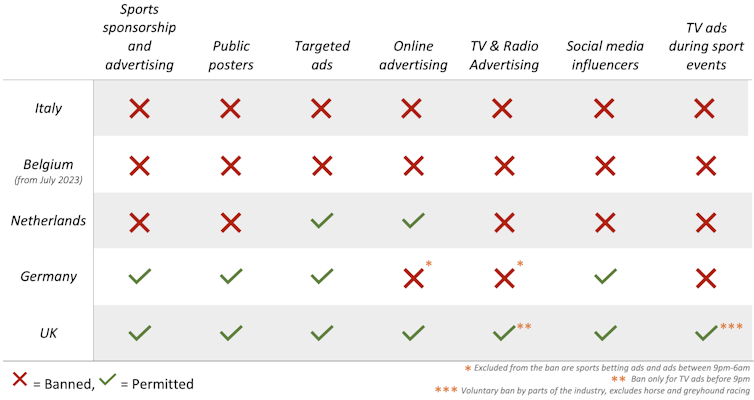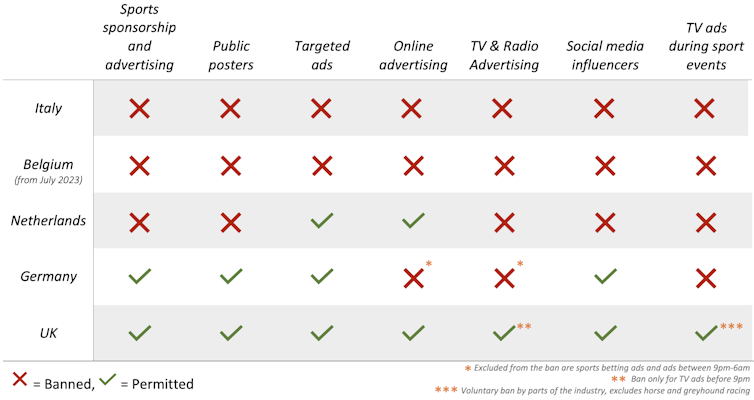 Belgium, the Netherlands and Germany: one step at a time
Other EU countries have taken a more piecemeal approach to recent reforms than Italy.
In 2018 Belgium banned the broadcasting of gambling adverts 15 minutes before or after children's programming, public posters for gambling, and direct advertising to named individuals in any form. Even these moves were deemed inadequate, with the Belgian Justice Minister arguing last year: "Gambling advertising is fired at us from all sides every day and encourages these addictions, including among young people."
Subsequently, the Belgian government approved new legislation in December 2022 to ban gambling advertising almost entirely as of July 2023.
The Netherlands has focused on restricting mass marketing on television, radio, internet search engines and public spaces. This approach aims to prevent a "bombardment" of gambling ads, particularly to children and young people.
Germany's June 2021 State Treaty on Gambling is the least restrictive measure of the four EU countries that have made the most recent changes to gambling regulations.
It includes a ban on advertising to minors or at-risk groups (such as people likely to suffer from certain mental health conditions, or who previously suffered from a gambling addiction). But most interesting is Germany's "watershed" approach to licensed online casinos, poker and virtual slot operators. Gambling adverts for these providers are prohibited on radio, TV and the internet between 6am and 9pm.
While the UK also has a watershed approach, this only applies to TV adverts during live sporting events. In the digital era, this seems insufficient.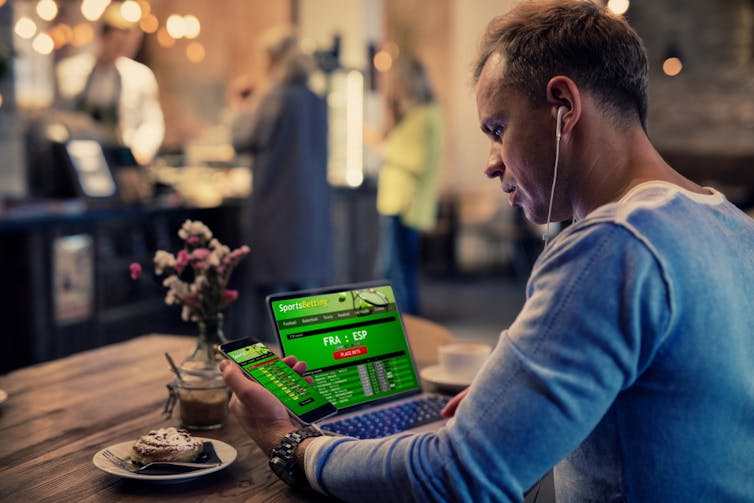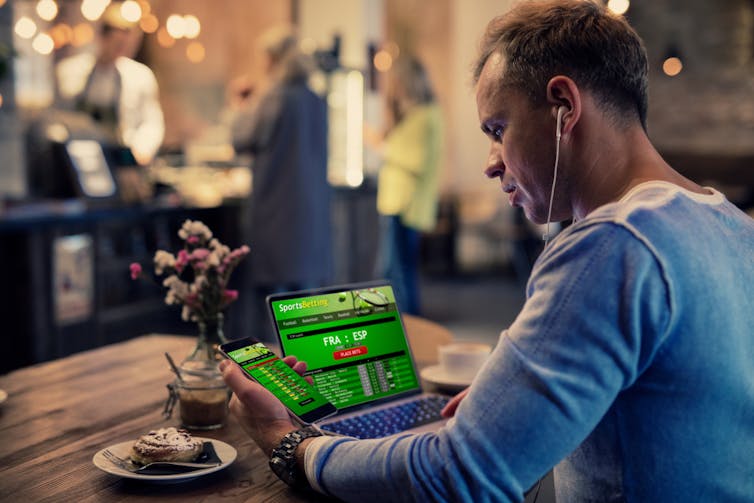 A senior commissioner in Germany's ministry for health championed this measure and also wants to expand it to sports betting.
Italy, the Netherlands, Belgium and Germany all have restrictions around sports betting given the close relationship between sport (particularly football) and gambling. In Germany, advertising with active athletes and officials is prohibited. Belgium, the Netherlands and Italy have strong restrictions on most sports betting marketing including betting ads during football matches and full sponsorship bans.
A number of UK campaigners have called for a similar approach, including the Big Step initiative, whose supporters include former England football star Peter Shilton.
Reviewing the UK Gambling Act
These four EU countries' recent gambling reforms have been quite different, but they all have one thing in common: substantial legislative reforms.
For the UK, our research shows that the safest option, particularly for children and people at risk, is a full advertising and sponsorship ban such as Italy and Belgium have executed.
The UK gambling industry and its lobbying group, the Betting and Gaming Council, has argued that such measures would drive people into black market gambling. But we can find no credible evidence for such claims. It has also argued that there is no evidence to link gambling advertising to gambling harms. But research has shown this link.
The UK government has emphasised that the current gambling act review needs to "get the balance right" while "following the evidence". So now is the time to listen, not only to public opinion, but also to mounting evidence about the links between gambling advertising and gambling harms and tighten the regulation.