The future of local newspapers is under threat, according to parliament's digital, culture, media & sport committee (DCMS) report released last month.
This report into the sustainability of local journalism comes at a time when public trust in the national media is falling, while online disinformation, polarisation and hatred towards minorities continues to rise.
But my research shows local journalism is capable of providing an important antidote to this. And therefore it should be recognised as an essential element for nurturing our diverse, civic communities.
Research shows how the media can portray Muslims in disproportionately negative ways. They are often represented as the problematic outsider of British society, often portrayed using stereotypes or as "a menace to the west".
A recent survey on Islamophobia in Britain found Muslims were perceived as the second "least liked" group in the UK, according to polling. Home Office figures released in October 2022 show how Muslims are much more likely to be the victims of religious hate crimes than any other religious group.
Local journalists and community spirit
My research has shown that the local media, in particular, has the potential to provide more inclusive ways of reporting on stories involving Muslims.
I conducted interviews with local journalists working for newspapers in areas with relatively large Muslim populations including London and Blackburn. The results showed there were conscious efforts to ensure their reporting did not cause harm to the Muslims within the communities they served. I found that local journalists saw Muslims as an integral part of their local community rather than outsiders.
Muslim celebrations and festivals were covered by local journalists. Stories about terrorist incidents were featured as well as concerns of Islamophobic attacks on local Muslims. And contributions of Muslims to civic life were reported in the same way as anyone else, as were crimes or wrongdoings.
"I attempt to go the extra mile in my reporting to get a more truthful picture of where the community is and the real lives of the people within it," one local journalist told me. "For me, it's about pushing back against the atomised bullshit that we do see coming back at us online. The reason it's important to tell stories truthfully and accurately is to push back against this dehumanising narrative that is out there."
Of course, it would be an oversimplification if we took the experiences learned from these particular journalists and applied them to local media as a whole. But other studies of local journalism have also highlighted their often distinctive newsroom cultures. Journalists and their readers are seen to be part of a single community with common values and goals. This closeness to the communities they serve can often translate to a more considered approach to reporting, as well as a greater reluctance to sensationalise or demonise.
Research also points to the commitment of local journalists to create a sense of community and to defend it.
Threats ahead
However, as the DCMS committee report highlights, the landscape of local journalism is changing and not in a good way. Between 2009 and 2019, more than 300 regional newspaper titles were shut down. During the week of February 6 2023, it was announced that three hundred employees at publisher DC Thomson will be made redundant. The company publishes newspapers including Aberdeen's Press & Journal and The Courier in Dundee.
There are serious concerns in the same report that without considerable government intervention, the decline in local journalism will have a harmful impact on civic life. Communities in the most deprived areas of the UK are most likely to be affected.
The DCMS report shows local publishers are struggling to keep up with larger media organisations in the move towards online news services. This is leading to losses in revenues and resources. To combat this, the DCMS committee has called on the government to help local news organisations gain charitable status while providing funding to support innovation, startups and new technology.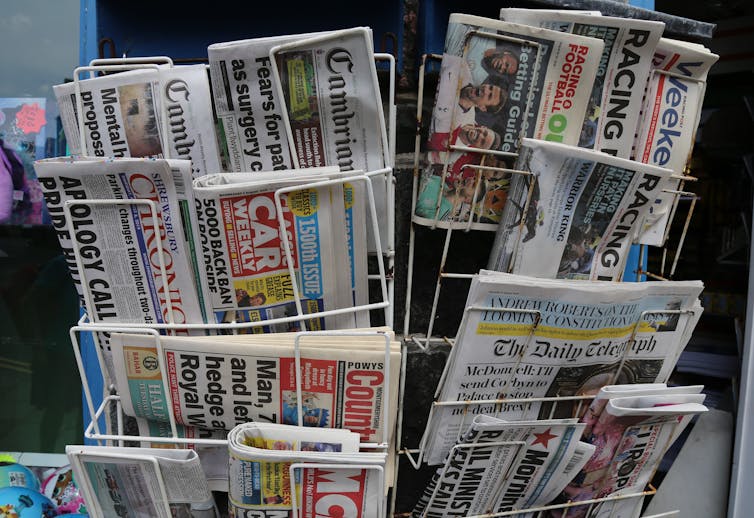 The upcoming digital markets, competition and consumer bill in Westminster will be closely watched by media experts to see how it affects smaller publishers.
Concerns for local journalism are not just about its survival in an increasingly digital news market, however. It is more a case of recognising that nurturing a community spirit is one solution to countering wider hatred, disinformation and polarisation.
Research by campaigning group the Media Reform Coalition shows how nearly 84% of local newspapers are now owned by just six companies. And while consolidation has been a lifeline for some newspapers, for others it risks extinguishing the close community connection that appears to be vital for the inclusive and balanced civic journalism we need.